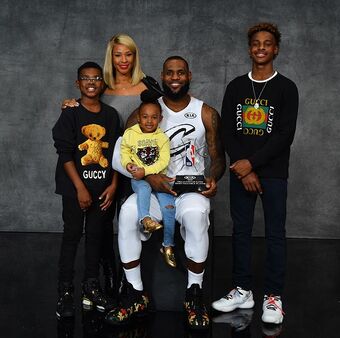 [Basketball player Lebron James & Family]
"A father is neither an anchor to hold us back nor a sail to take us there but a guiding light whose love shows us the way." – Unknown
June 21st marks the UK's official 'Fathers Day'! This month, we want to show some love to all the men who have been fathers, father figures or just top notch Oga's in general!  We have compiled our pesinaalll list of favourite on-screen Daddies. Check out our list of  Top 5 on-screen Black Baba's that raised us (and we didn't even know it!) 
1. Uncle Phil
"First things first rest in peace Uncle Phil, for real, you the only father that I ever knew" - 

J.Cole - No Role Modelz
When it comes to television Oga's nobody beats the legendary James Avery known to us all as  Uncle Phil in the Fresh Prince of Bel Air.
A hard working no nonsense Father and Judge, who has a soft spot for his sweetie darling Vivien and children Hillary, Carlton, Ashley and Nicky. 
He not only loves and provides for his family but he takes in his wife's nephew, Will and offers him a stable home. In one of the saddest TV episodes ever we see the extent of love Uncle Phil has for his Nephew after he is abandoned by his father.
2.

Desmond
Did you even grow up in the UK in the early 90's if you didn't watch Desmond with your 

family? 
Arriving in the UK during the historic Windrush Desmond was the model example of a 
Caribbean Daddy who settled in the UK. Desmond Ambrose played by Norman Beaton was a 
father of three who owned a local barber shop in Peckham, South London.
A small business owner (like us!) and family man Desmond had ambitions of moving back to his 

native island of Guyana after his youngest goes off to University. Desmond was one of the first TV shows in the UK to highlight the black Caribbean family experience.
3

. Michael Richard Kyle Sr.
Has there ever been a more hilarious TV father?  Ahhhhh
NAH!
In 'My Wife and Kids', Michael Kyle Sr. played by Damon Wayans was known for his crazyyy approach to parenting and life lessons. The father of three married his teenage sweetie darlinggg at 16 after she became pregnant.
Our personal favourite was Michael Kyle's

"I OWNNN YOUR BIG HEAD"

(Spoken like a true African daddy) rap battle with Bobby Shaw (played Kat Williams) in order to win back the rights of his son Jr.
 4. Robert "Grandad" Freeman
Oga Freeman was the paternal Grandfather to Huey and Riley Freeman in Boondocks and became the sole carer of the children after the loss of their parents.
Voiced by the legendary John Witherspoon (RIP) Grandad was known to be old yet unwise. He always shared stories on how he fought in WW2 and managed to go to prison for accidentally getting on the wrong bus with the Freedom Riders.
As a typical disciplinarian (it is the black man blood in him) Grandad never accepted responsibility for his actions and was swift with the belt! However, he was known to genuinely love his grandchildren.
 5. Ray Campbell
Ok, but this is another "Did you really grow up in the 90's if you did not watch Sister Sister?"
Ray Campbell played by Tim Reid was the father of Tamera Campbell who he adopted as a child. When Tamera turns 14 she discovers that she has a long lost twin sister Tia. Ray the owner of a limousine business decides that it's best to move his daughters identical twin and her mother into his home in the suburbs in order for them to no longer be separated.
A more cool and calm intellectual Ray was always the level headed Father bringing timely advice to his daughters.
Ayy what  a trip down memory lane sha! 
If you have any favourite Oga's in your life that you want to spoil, check out our new 'OGA' mug and Tshirt range right
here
! You know as for us we've always got you covered.
PeAcE & Love,
EF Fam XxX